Gallop of Patriotism: Celebrating Horse Racing's Role in National Identity
(Patrick Marzett plays the trumpet during the Steeplechase of Charleston on Sunday, Nov. 14, 2021 at The Stono Ferry Racetrack in Hollywood. Andrew J. Whitaker/Staff)
By Ryan Biddix
In the wake of the recent July 4th celebrations, we turn our attention to the patriotic spirit that permeates horse racing. From the sight of flag-waving jockeys to the noble involvement of horses in military service, horse racing has played a vital role in shaping and embodying our nation's identity and pride. In this blog post, we'll explore the rich connection between racing and its patriotic sentiments, unearthing the traditions and stories that have cemented this profound bond.
The Role of Horse Racing in National Celebrations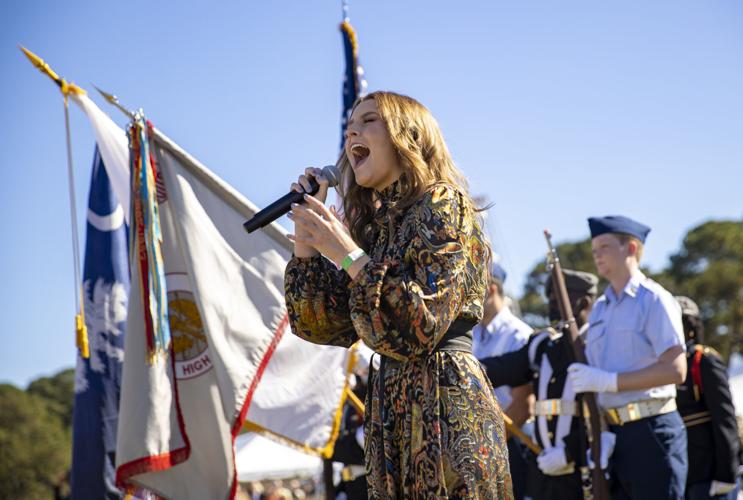 (Faith Schueler sings the national anthem during the Steeplechase of Charleston on Sunday, Nov. 14, 2021 at The Stono Ferry Racetrack in Hollywood. Andrew J. Whitaker/Staff)
Horse racing events have long been seamlessly woven into national celebrations to foster a sense of patriotism during significant holidays such as Independence Day or Memorial Day. Races held on the Fourth of July often feature flag ceremonies, national anthem performances, and other patriotic activities that pay homage to the nation's founding. In fact, the iconic racehorse Secretariat's first race was on July 4, 1972!
Iconic American Horse Races: Showcasing National Pride
(2010 Kentucky Derby, Wikimedia Commons)
Prominent horse races such as the Kentucky Derby hold a significant place in American tradition. The Kentucky Derby, the oldest annual sporting event in the U.S., has garnered international attention since its inception. It is a quintessential American event for both tourists and locals alike. The Twin Spires, the pageantry, and the rendition of "My Old Kentucky Home" all contribute to the patriotic atmosphere. The race's long-standing traditions, such as the garland of roses and the singing of the national anthem, amplify the sense of pride and connection to American heritage.
Horses as National Symbols
(Sea Biscuit statue, Wikimedia Commons)
Only a few racehorses have transcended the realm of sports to become national symbols and cultural icons, captivating the hearts of the public and fueling patriotic fervor. These racehorses include Secretariat, Sea Biscuit, American Pharaoh, War Admiral, and Seattle Slew. Each has an inspiring story that highlights how horses have become a part of national identity.
Jockeys as Ambassadors of Patriotism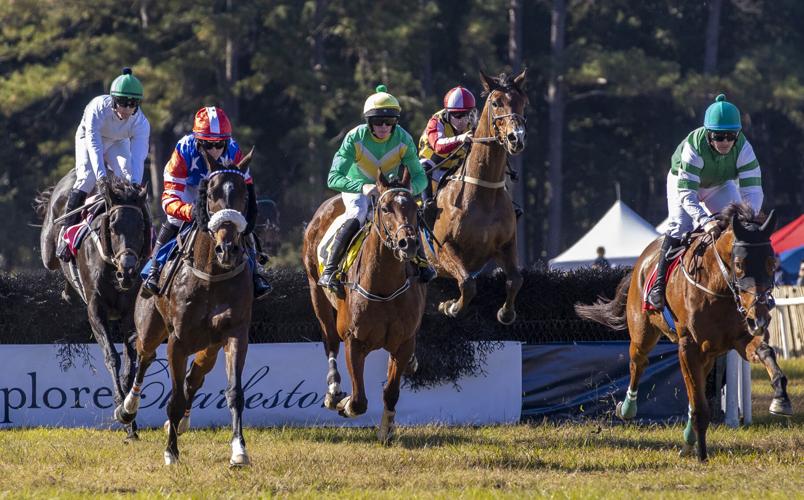 Jockeys, as skilled athletes, serve as ambassadors for their countries during international events, instilling a sense of pride and unity amongst spectators. They often embody the cultural diversity and traditions of their nations. Whether it's through their attire, riding style, or personal background, they become cultural representatives. Consider other major sporting events, such as The World Cup, where soccer players inevitably become the spokespersons for their country. Their presence on the international stage allows them to share their nation's unique differences and contribute to a greater understanding and appreciation of their culture and heritage.
The Colors of Patriotism: Flag Racing Silks
(Jockey silks, IStock)
As mentioned above, one of the ways jockeys represent their home country is through their attire. Jockeys are often outfitted in colorful silks adorned with flags and other patriotic emblems. These silks act as nationalistic symbols, cementing jockeys as cultural ambassadors.
Honoring National Heroes: Military Connections in Racing
(Kentucky National Guard, Wikimedia Commons)
Racehorses and racing events have remarkable connections to the military, from fundraising for veterans to the repurposing of racehorses for military service. These initiatives provide an opportunity for the racing community to come together and support the sacrifices made by military personnel.
Horses, in general, played a pivotal role in gaining independence for early Americans. Most early warfare included battle horses, a necessary form of transportation. If it weren't for George Washington's two battle horses or the horse that Paul Revere galloped through the streets of Boston on, our country might look very different today.
Racing and National Heritage
(The Japan Cup, Wikimedia Commons)
Horse racing plays a major role in preserving a nation's cultural heritage. This is evident in international events such as the Japan Cup and the Dubai Cup. By incorporating cultural themes, showcasing traditional dress and ceremonies, promoting local cuisine, preserving architectural styles, celebrating indigenous horse breeding, and highlighting traditional arts, horse racing serves as a vibrant medium for the conservation and celebration of a country's cultural traditions.
Horse Racing's Economic Impact
Racing events have a momentous impact on the economy, both locally and nationally. The industry's impact extends far beyond the racecourse. It has the ability to generate employment opportunities, attract tourism revenue, stimulate infrastructure development, support the agricultural sector, and nurture small businesses, which contribute to economic stability and growth. The Steeplechase of Charleston continues to support local businesses every year through our Merchant Market, so stay tuned for this year's lineup!
Racing Rivalries: Fierce Competitions that Unite Nations
Like most sports, horse racing evokes passionate displays of national pride and camaraderie among its viewers. When your favorite thoroughbred is trotting down the track at lightning speed, it's difficult to refrain from exclaiming the name of your home in pure excitement. These enthusiastic displays of pride are heightened during historic occasions, where race rivalries go "hoof to hoof." The USA vs. Europe race in the Breeder's Cup is a perfect example of this.
The sport of horse racing, with its storied traditions and timeless appeal, has managed to weave itself into the foundation of American culture and tradition. From flag-adorned silks to national celebrations, the sport conjures a sense of pride and national identity in both participants and spectators. Horse racing is more than just a sport; it is a gallop of patriotism, reminding us of our shared history and heritage. So join us on November 12, 2023 to bear witness to our unique traditions and become a part of Steeplechase history!